Introduction
If you are a regular visitor here at Drafthound, then you may be familiar with the guys over on FanTeam who run one of the world's leading daily fantasy platforms and communities.
Well, they have just announced a record-breaking £1,000,000 Fantasy Football Tournament for the upcoming European Championship (Euros 2020) - and we couldn't be more excited!
Are you new to FanTeam? Don't worry, we have you covered with our FanTeam Euros Guide and expert teams to help you get started.
It plays like classic FPL except for the fact that you now have the chance to turn your fantasy knowledge into cash prizes - and the best part? You don't even have to finish first to win.
Euro 2020 Tournament - £1M Prize Pool
£20 Entry
Bet €20 Get €20 In Free Bets
Claim Offer
Prizes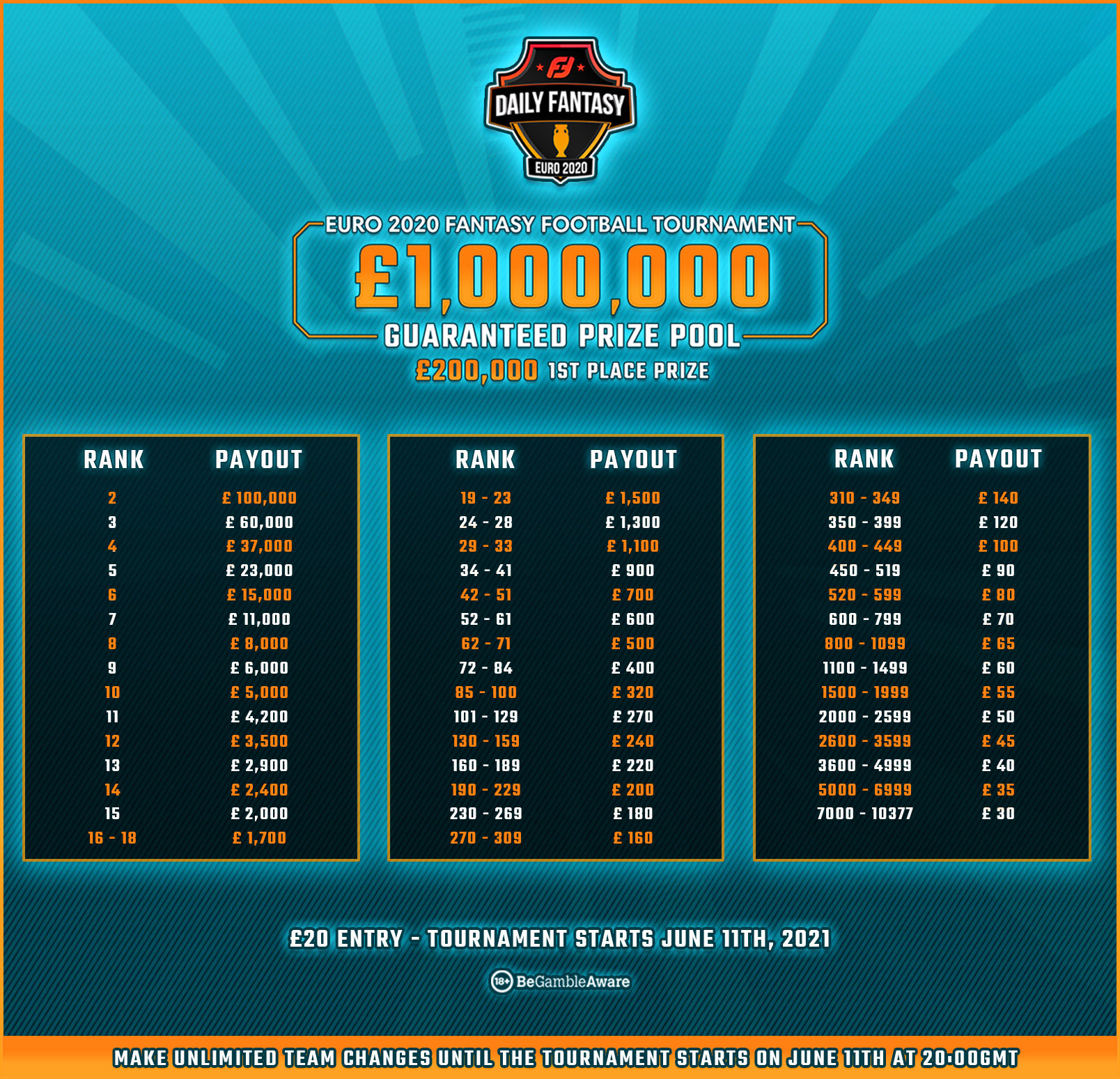 First place will take home a life-changing £200,000 but there's also a guaranteed £800,000 prize pool for those finishing within the top 10,377.
In FPL terms that might sound like an improbable rank but that's a game of 8 million players.
This competition is capped at 87,109 entries meaning a rank of 10,377 corresponds to a top 11,9% finish.
To put that into perspective that's the equivalent of coming 952,000 in FPL which most consistent managers should be able to do!
Rules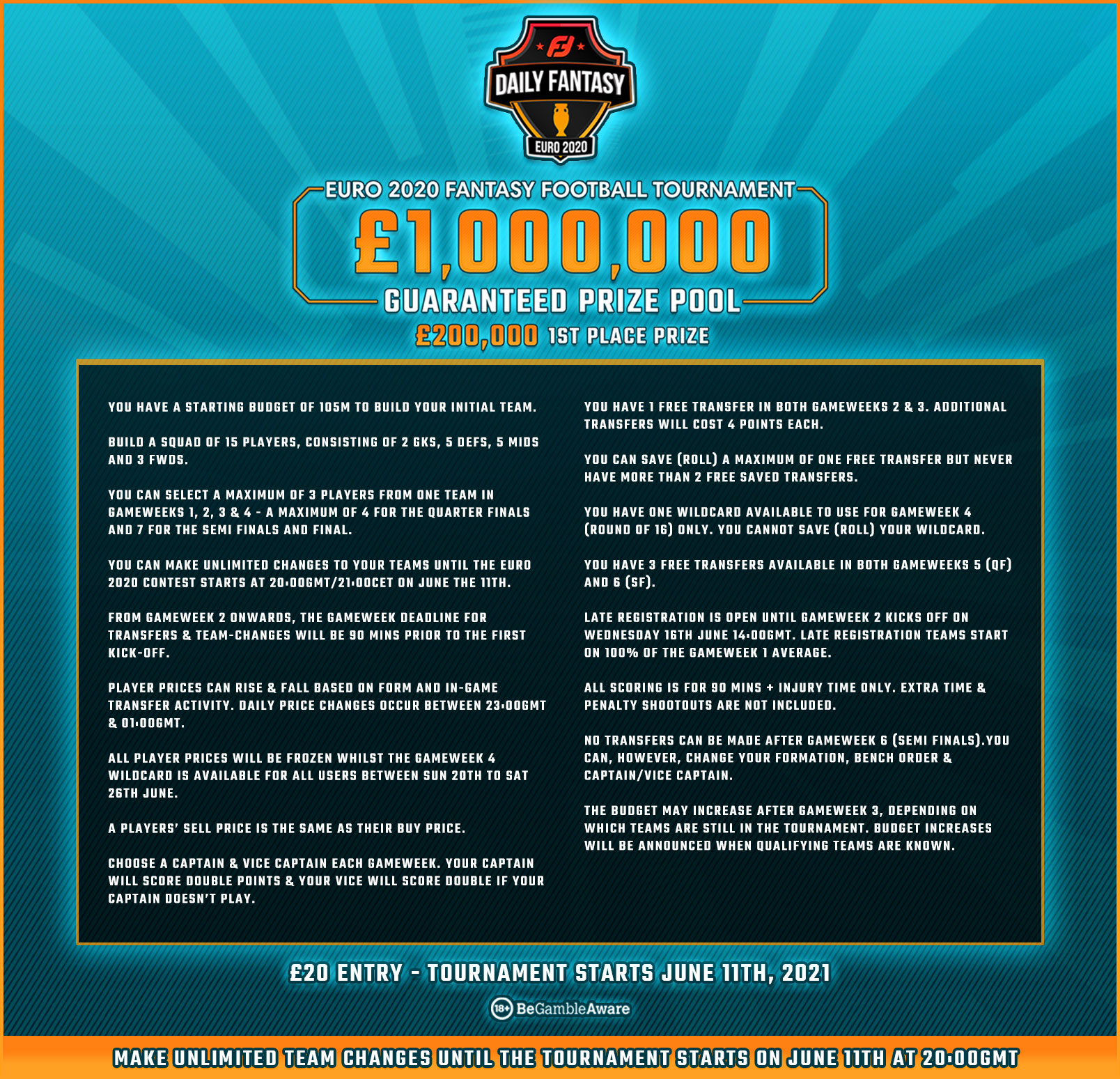 As mentioned earlier, anyone with any sort of Fantasy Premier League experience should be able to pick up FanTeam's contests without issue.
The rules, prices, and scoring systems are all very similar to FPL so skills are easily transferable.
It's essentially a version of the FPL that allows its players a legitimate opportunity to make money from their manager expertise.
Pro Tip
For those who are new to the game or just want to brush up on their skills we've made a guide on how to get started with FanTeam which can be found
here
.
The full set of rules can be found in the graphic above or on FanTeam's site - but we've also highlighted the ones you should pay the most attention to here:
Now that you are familiar with the game setup le's take a look at how your players will score you points - spoiler alert - it's also based on the FPL.
Scoring
Disclaimer - The points system shown was correct at the time of writing. A small change to the points system has since been made, which will impact football tournaments from Friday 11th June 2021 onwards.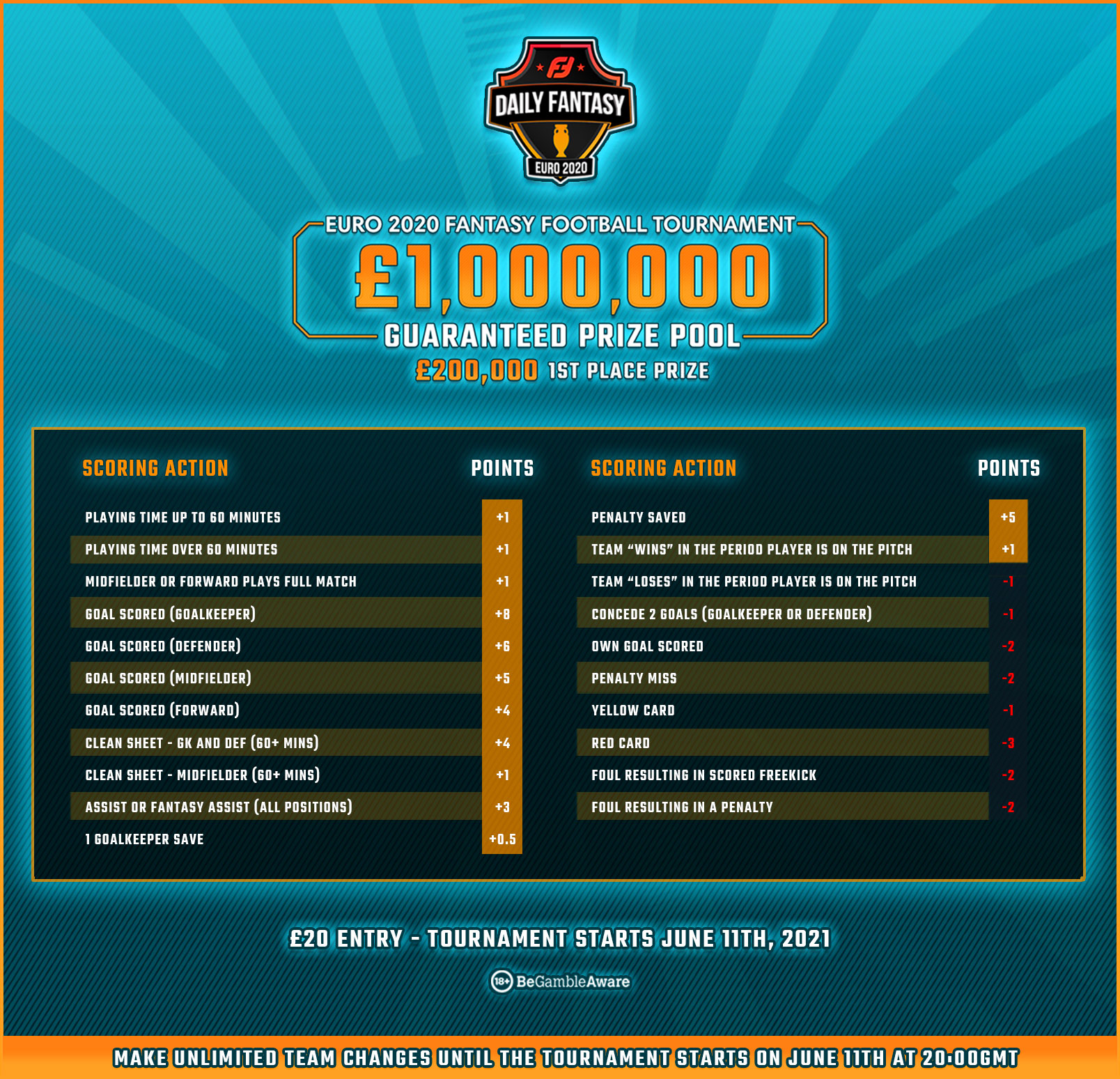 The bulk of your points will come from goals, assists, and clean sheets - and the only additional aspects you need to be aware of are:
That's it!
Don't worry if you are still unsure about the rules or scoring as this is just the first of a number of articles that we have planned to help you to pick your squad prior to the deadline along with our usual player analysis and dream teams - all you need to do is to make sure you're either signed up to our newsletter or follow us on either Instagram or Twitter, where we will also be doing competitions for free entries into the competition!
Conclusion
From the first game between Turkey and Italy on Friday, June 11th, Euro 2020 will take over the lives of many football fans for the following month.
In a tournament that is to be held all over the continent, we will get to see the top European talent do battle for their flags.
FanTeam's Euro 2020 competition is probably one of the only events that could add to the excitement of this summer's football action and we'll be there to cover it all!
You can already see player prizes and submit your team for the competition over on FanTeam. We have a number of great offers that even allow you to play for free so you can get to know the platform!
Euro 2020 Tournament - €3,000 First Prize
Free Entry
Euro 2020 Tournament - £1M Prize Pool
£20 Entry
Bet €20 Get €20 In Free Bets
Claim Offer
Frequently Asked Questions
Is it realistic to win anything?
Can Drafthound help me with my team?
Can I play FanTeam without playing Fantasy Premier League?
How does FanTeam earn money on their fantasy contests?
We hope you found this guide useful! We'll continue to make more content for those who enjoy daily fantasy so please let us know what we can do to make that experience better. As part of our partnership with FanTeam, Draftohund may collect a share of sales or other compensation from the links on the site.
Best of luck from everyone at Drafthound!
Euro 2020 Tournament - £1M Prize Pool
£20 Entry
Bet €20 Get €20 In Free Bets
Claim Offer